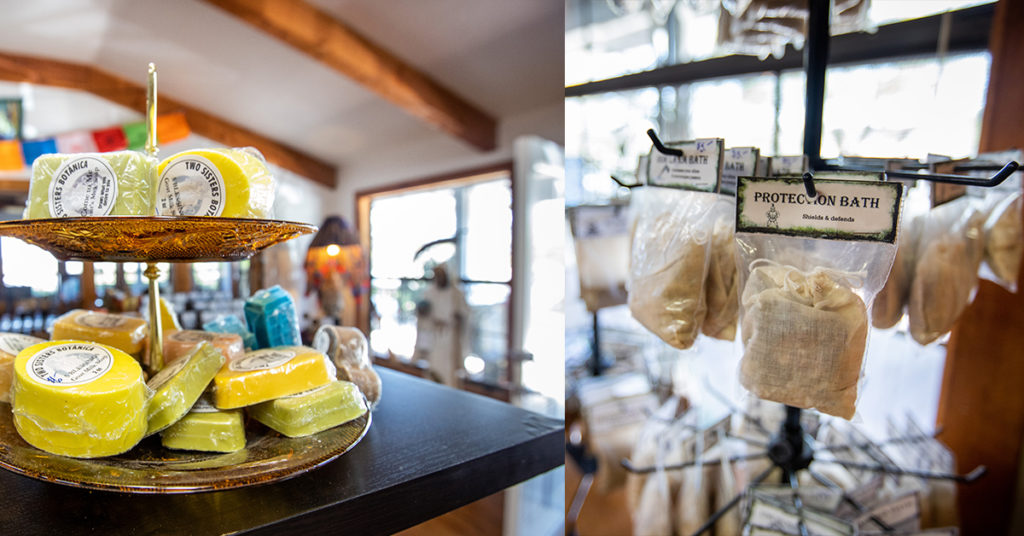 ALL SOAPS ARE SOLD OUT UNTIL JUNE 1 – RESTOCKING ASAP!
Bath magic steeps you in the essence of herbs, oils, and energy used when making the product. Our bath products use the finest base components with high-level essential oils and herbs added.

SUPER EMPOWERED BATH SOAKS

These bath soaks are filled with herbs, five different salts, and oils that support the goal, all contained in a muslin bag. Run hot water in the tub, throw in the tea bag, let it steep for a bit, then follow the instructions on the package. The cost listed below includes shipping. (Hint: You can reuse these baths up to 3 times. Dry out the bag, add more salt, reuse.)
Protection Bath – $8.00 each —
Cradles you in a fragrant protection wash that continues to work after you leave the bath
---
Uncrossing Bath – $8.00 each —
Reverses negative energy sent to you and cleanses your spirit of any malevolent interference
---
Purification Bath – $8.00 each —
Cleanses away what no longer serves you and eliminates obstacles in your path. Washes away anything that is not for your own greatest good and purifies your spirit.
---
Ooh La La Bath – $8.00 each —
Attracts romance, lust, and love.
---
Motivation Bath – $8.00 each —
Gets you motivated to achieve your goals.
---
Come to Me Bath – $8.00 each —
Draws to you what you desire.
---
Abre Camino Bath – $8.00 each —
Removes obstacles.
---
Chuparrosa Bath – $8.00 each —
Draws a man to a woman.
---
Fertility Bath – $8.00 each —
Increases chances of conception and also increases success of new endeavors.
---