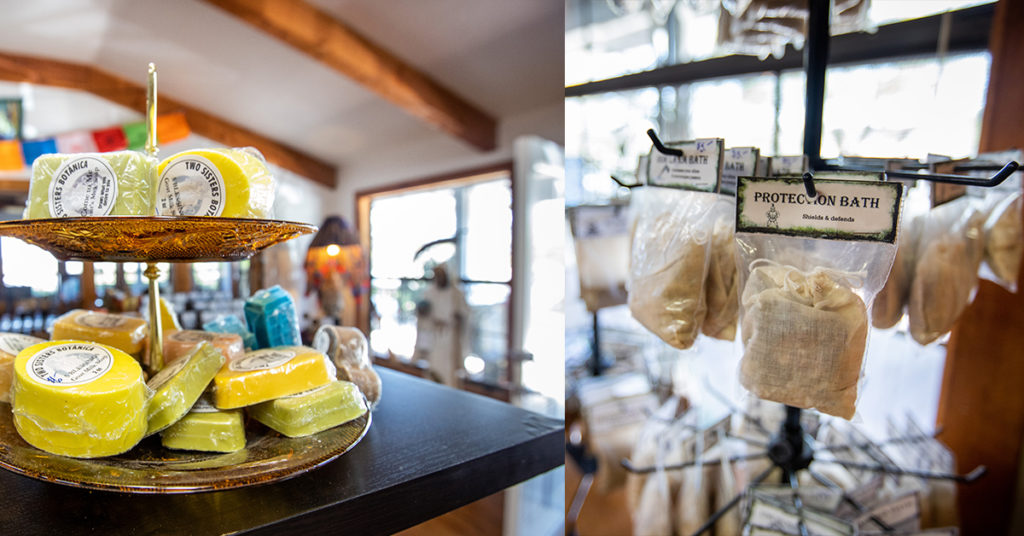 Bath magic steeps you in the essence of herbs, oils, and energy used when making the product. Our bath products use the finest base components with high-level essential oils and herbs added.

SUPER EMPOWERED BATH SOAKS

These bath soaks are filled with herbs, five different salts, and oils that support the goal, all contained in a muslin bag. Run hot water in the tub, throw in the tea bag, let it steep for a bit, then follow the instructions on the package. The cost listed below includes shipping. (Hint: You can reuse these baths up to 3 times. Dry out the bag, add more salt, reuse.)
Protection Bath – $8.00 each —
Cradles you in a fragrant protection wash that continues to work after you leave the bath
---
Uncrossing Bath – $8.00 each —
Reverses negative energy sent to you and cleanses your spirit of any malevolent interference
---
Purification Bath – $8.00 each —
Cleanses away what no longer serves you and eliminates obstacles in your path. Washes away anything that is not for your own greatest good and purifies your spirit.
---
Ooh La La Bath – $8.00 each —
Attracts romance, lust, and love.
---
Motivation Bath – $8.00 each —
Gets you motivated to achieve your goals.
---
Come to Me Bath – $8.00 each —
Draws to you what you desire.
---
Abre Camino Bath – $8.00 each —
Removes obstacles.
---
Chuparrosa Bath – $8.00 each —
Draws a man to a woman.
---
Fertility Bath – $8.00 each —
Increases chances of conception and also increases success of new endeavors.
---
MAGICAL SOAPS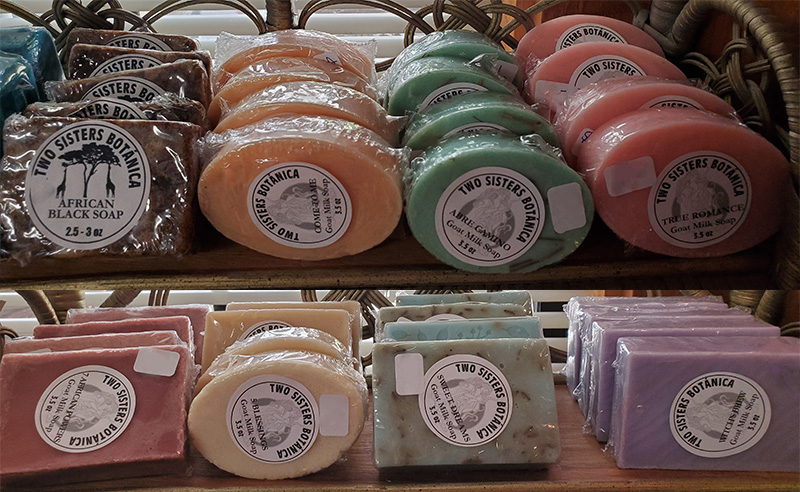 Our soaps are made from high grade goats milk base and empowered with fine herbs and essential oils. Each one has a strong magical purpose imbued into its making. Bars of soap are $8.00 each, which include shipping cost. If your order total is over $20.00, your shipment upgrades to Priority Mail.
African Black Soap has strong healing and regenerative properties. It works great for skin conditions and promotes new beginnings and purification.
---
Come to Me is a soft blend of rose, patchouli, and lemongrass designed to draw to you what you most want.
---
Abre Camino has the primary scents of lemongrass, lemon, mint, and camphor and its primary functions is to open the roads and clear away obstacles to your success.
---
True Romance has a soft rose scent with undertones of amber. It encourages a sweet, romantic atmosphere.
---
7 African Powers invokes love, wisdom, power, health, luck, protection, & success. It's scents are frankincense, dragon's blood, sage, myrrh, sandalwood, and a touch of cinnamon.
---
5 Blessings is a soft, sweet blend that brings love, joy, abundance, success, and good health. It's primary components are a complex blend of rose, ylang-ylang, jasmine, lily of the valley, iris, vetiver, sandalwood, vanilla, amber and patchouli.
---
Sweet Dreams is a relaxing lavender blend with hints of mint to promote relaxation and gentle sleep.
---
Witch's Brew is an intoxicating aroma blend of clove, cinnamon jasmine, patchouli, and vanilla. It evokes the magic of Autumn and is great for astral travel and communication between the veils.
---