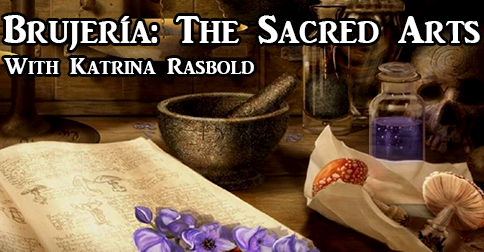 Katrina Rasbold is starting a new series of Brujeria classes. This is a vetted application process and not all who apply are accepted to participate. The transference of Brujeria into a classroom environment is very sensitive and the class dynamic must operate in a specific way for greatest success.
About Brujeria:
Brujeria is Mexican and Mexican-American Witchcraft. Unlike other magical paths, Brujeria comes from a perspective of healing and working magic for other people rather than for yourself. This is a path of service.
Brujeria is unlike Wicca or other ceremonial magical practices. It does not adhere to a "harm none" code but instead treats each magical interaction as "justified" or "not justified." Brujas/os follow their own code of ethics and integrity.
Brujeria is not a Pagan practice itself, although many Pagans practice it. Brujeria is rooted in the worship of the old Aztec gods and syncretized onto Catholocism in the 1500s. Many of our incantations are Biblical scripture and our clients often follow the Blessed Mother, Jesus Christ, as the Christian God as their divine influences. For this reason, it is essential that applicants for this class overcome any resistance to or discomfort with working with the Catholic saints or divine figures.
About this class:
This is a 12 month class series. The class meets once a month for twelve months. This class meets the last Sunday of each month at 4:00 pm at Crossroads Metaphysical Shop, 4045 Sunset Lane, Unit D, Shingle Springs, CA 95682.
There is an online component to this class as well. Students may opt to participate only online if distance or scheduling keeps the from in-person attendance. In-person attendance is always recommended. The online class material posts to the study group the Tuesday after the in-person class meets.
All students, online and in-person, must participate in an online Facebook study group. This is where we connect between classes to discuss that month's material and to post relevant interesting or funny information. The week before class begins, I will send everyone who is selected for the class a link for the Facebook group to make sure everyone joins.
The fee for this class is $25 per month, paid in person at the time of the first class or $27 per month online through the payment interface (credit card, debit card, or PayPal). The extra $2 for online payment covers additional fees associated with online payment. You may also set up recurring automatic payments so your payment always posts on time.
Interested in applying for this class? Please fill out the form below: