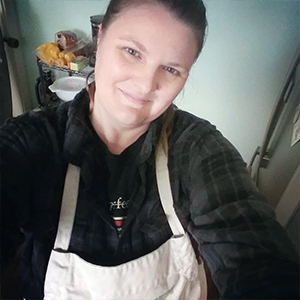 Nelta Privitt is the owner and chief herbalist for The Vulgar Apothacary. Her organic, carefully grown and harvested herbs are available at Crossroads Metaphysical Store.
Nelta teaches Intention Gardening classes and hosts the popular and magical Full Moon Drum Circle held each month at Crossroads. Check our Upcoming Events page for information on the next Drum Circle.
She is also "Producer Nelta" who co-hosts the Witches At The Crossroads Hour with Katrina Rasbold and Gladys Gordillo, a Facebook Live Streaming event including free one card oracle and Tarot readings and discussions about Conjure, Magic, Divination, and other metaphysical subjects. WATCH airs every Thursday night at 7:00 pm on at www.facebook.com/crossroadsoccult.