Fiagai (Fee-Gwee) Faeborne is a third level practitioner of the CUSP spiritual path with a specialty in eclectic Wiccan practice.
Fiagai began working as an eclectic Wiccan High Priestess in 2013 and served as Minstrel in the long-lived CUSP Mother Circle to which she was an initiate, working her way to the third degree level.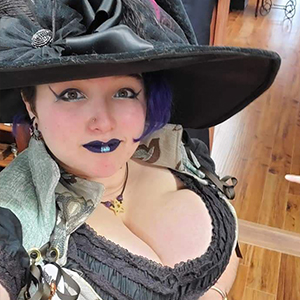 In 2016, she completed a year-long Conjure/Hoodoo apprenticeship under Katrina Rasbold.
Fiagai serves as High Priestess to The Spiral River Covenstead, a teaching and initiatory Wiccan coven that meets for New Moon, Full Moon, and the eight sabbats of the year at Crossroads Metaphysical Store.
Her magical working partner, Iri Stormlight, assists her with sabbat celebrations. Check the Upcoming Events page for information about her circle meetings. Please note that all of her rituals are performed in the eclectic style and do not follow the mandates of a specific tradition.
Please like the Facebook page for The Spiral River Covenstead to follow their event schedule.