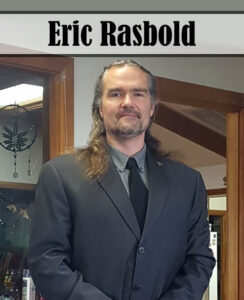 Best-selling author, yogi, and Reiki Master Teacher, Eric Rasbold, offers intensive Reiki Healing treatment using the biouniversal energetic flow to transform your mind, body, and spirit.
He works with energy for clients both in person and by remote (at a distance).
You may pay online for a Reiki Healing session with Eric by clicking the button below. The cost for the session is $65.00, whether by remote or in person. If you wish to have an in-person session, please phone or email Eric to see when he can fit you into his schedule. If you wish to have a remote healing, please phone or email him to discuss your circumstances:
($65.00)
Note: Clients booking in-person healing sessions have the option of paying in person at the time of the session.
---
Contact:
You can email Eric at eric@crossroadsoccult.com or phone him at the shop during opening hours: (530) 387-7276.
---
Please follow and like us: