Crossroads Metaphysical Store, nestled in the beautiful foothills of the Sierra Nevada Mountains, only 10 minutes east of Folsom and 10 minutes west of Placerville, in Shingle Springs, California (Highway 50) is owned and operated by Eric & Katrina Rasbold.
Crossroads offers handmade magical supplies, created in house by the owners, as well as handmade products made by our wonderful artisan vendors, all of whom are carefully chosen by the owners. We also offer ongoing classes and events, many of which are free (donations welcome).
CLICK FOR SHOP PHOTOS CLICK HERE TO SEE OUR STAFF PAGE
Crossroads is open from 12:00 (noon) – 8:00 pm Wednesday through Sunday, closed on Monday and Tuesday.
We offer many of our products and services online and by remote to our wonderful clients. You can order products and services online by clicking on our main menu and making your choice from there.
Crossroads
4045 Sunset Lane, Unit D
Shingle Springs, CA 95682
Contact us by email at: contact@crossroadsoccult.com
About the Owners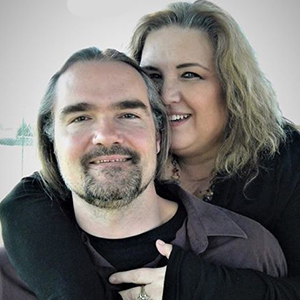 Eric and Katrina Rasbold have been active in the Sacramento Pagan community for more than twenty years and are founding board members of North Western Circles Association, the host of the annual PanGaia Festival. Prior to that, they worked on the Sacramento Celtic Faery Festival, Sacramento Pagan Pride, and hosted countless open rituals in the area.
Katrina is the author of more than thirty-five books, all available on Amazon.com and ten of which, she wrote with Eric. Her newest book, Uncrossing, released through Llewellyn worldwide in June 2021 and she is currently working on the sixth book of the eight book series called The Sisters of Avalon.
The Rasbold studied multiple aspects of magic, religion, and the paranormal all over the world, including Korea, the Marianas islands, Mexico, England, and throughout the United States.
They previously owned and operated "Two Sisters Botanica" in Roseville, California and are a popular booth at Sacramento area festivals. They lectured at Pantheacon for six years and at various other local events for more than two decades.
Please follow and like us: