SUPER EMPOWERED BATH SOAKS – $8.00 ea
These bath soaks are filled with herbs, five different salts, and oils that support the goal, all contained in a muslin bag. Run hot water in the tub, throw in the tea bag, let it steep for a bit, then follow the instructions on the package. (Take the bag out of the plastic wrapping. Do NOT open the muslin bag before putting into the tub) The cost listed below is for one bath and includes shipping.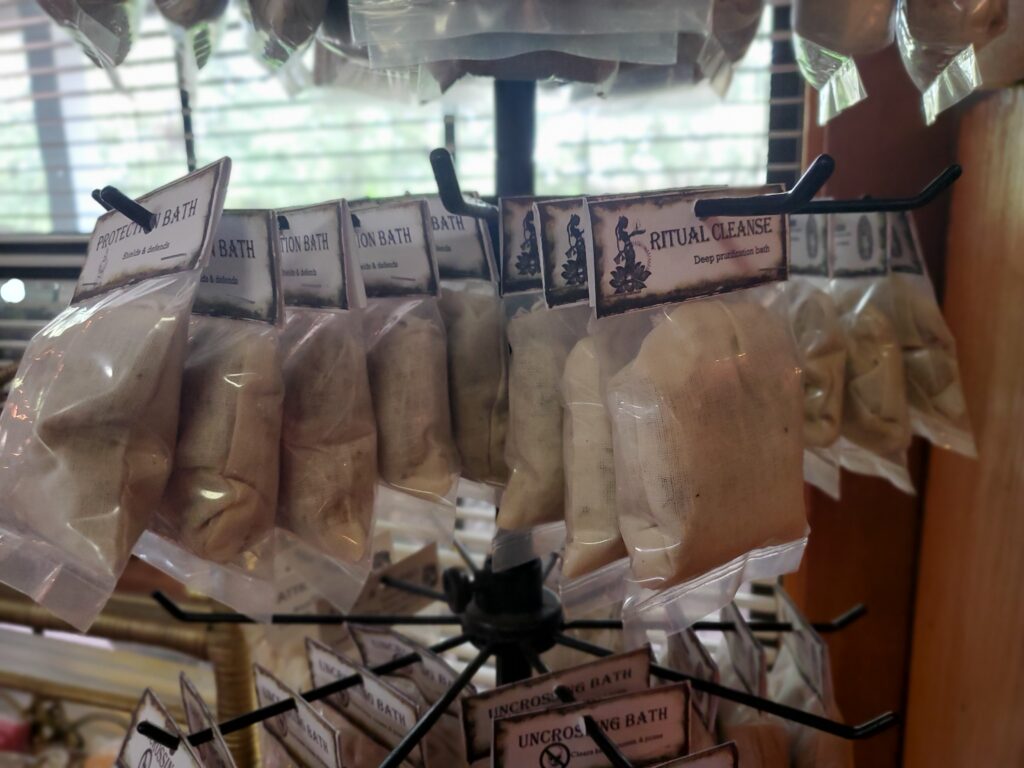 Attraction Bath : Increases your allure, bewitches others, and attracts what you want to you. $8.00 ea
---
Come to Me Bath : Draws the one you love to you. This is generally directed to one specific person. $8.00 ea
---
Fertility Bath : Increases chances of conception and also increases success of new endeavors. $8.00 ea
---
Protection Bath : Cradles you in a fragrant protection wash that continues to work after you leave the bath $8.00 ea
---
Ritual Cleanse : Provides a deep, spiritual cleanse to ground you and clear your aura before magical work or during challenging times. $8.00 ea
---
Showers of Gold Bath : Draws money to you from both expected and unseen sources. Increases prosperity and money luck. $8.00 ea
---
Uncrossing Bath : Reverses negative energy sent to you and cleanses your spirit of any malevolent interference. $8.00 ea
---
MAGICAL SOAPS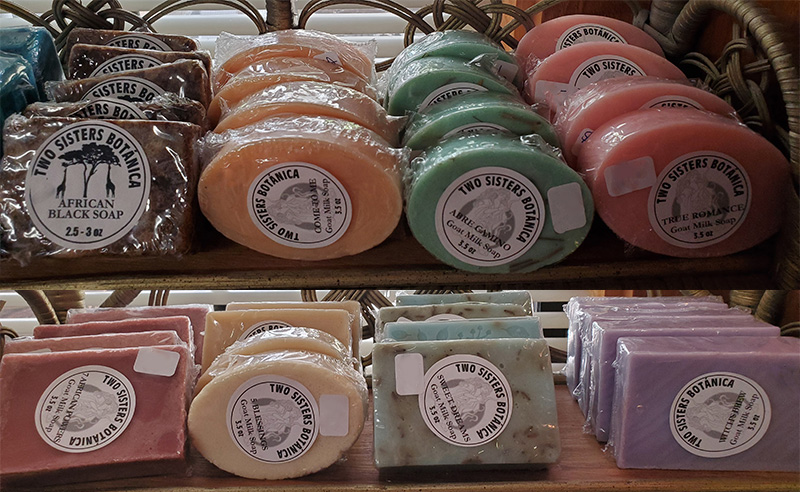 Our soaps are made from high grade goats milk base and empowered with fine herbs and essential oils. Each one has a strong magical purpose imbued into its making. Bars of soap are $8.00 each, which include shipping cost. If your order total is over $20.00, your shipment upgrades to Priority Mail.
---
5 Blessings is a soft, sweet blend that brings love, joy, abundance, success, and good health. It's primary components are a complex blend of rose, ylang-ylang, jasmine, lily of the valley, iris, vetiver, sandalwood, vanilla, amber and patchouli.
---
7 African Powers invokes love, wisdom, power, health, luck, protection, & success. It's scents are frankincense, dragon's blood, sage, myrrh, sandalwood, and a touch of cinnamon.
---
Abre Camino has the primary scents of lemongrass, lemon, mint, and camphor and its primary functions is to open the roads and clear away obstacles to your success.
---
Come to Me is a soft blend of rose, patchouli, and lemongrass designed to draw to you what you most want.
---
Sweet Dreams is a relaxing lavender blend with hints of mint to promote relaxation and gentle sleep.
---
True Romance has a soft rose scent with undertones of amber. It encourages a sweet, romantic atmosphere.
---
Witch's Brew is an intoxicating aroma blend of clove, cinnamon jasmine, patchouli, and vanilla. It evokes the magic of Autumn and is great for astral travel and communication between the veils.
---